The Center for Engineering Education Innovation at SeoulTech (Center Director Kim Dae-gon) won the "College of the Year" statue at the 2017 Engineering Festival and for the third consecutive year since 2015.
The "2017 Engineering Festival" was hosted by the Ministry of Industry and Resources (Minister Baek Woon-kyu) and co-hosted by the Korea Industrial Technology Development Agency (Jang Jae-hoon) and the Engineering Education and Innovation Council (Chairman Kim Dong Won) Smart Connected Society, New Future, One Engineering ". This event, which celebrates its 6th anniversary this year, is the largest event in the engineering field, sharing and spreading the innovation achievements of engineering education and suggesting the direction of nurturing engineering talents to meet the demands of industry. It is an event with an average of more than 10,000 students per day, professors, businessmen, High school students, and the general public. SeoulTech participated in various programs such as creative design contest, engineering public relations ambassador, S-School project-linked project, and engineering education innovation center.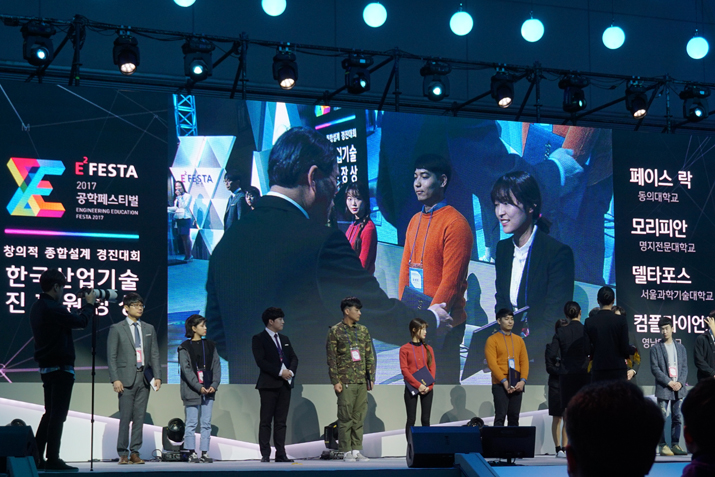 ▲ SeoulTech receives the Best University award at the 2017 Engineering Festival held at the Kim Dae Jung Convention Center
The SeoulTech Center for Engineering Education and Innovation has gained a good reputation for its activities in all areas. In the Creative Design Competition, 'DeltaForce' team consisting of 4 students in mechanical system design engineering won the prize of the Korea Industrial Technology Promotion Agency for its '4-axis delta robot using tilting stage'. In addition, 'M-Life' team, which is a multi-disciplinary team of mechanical system design engineering and electronic IT media engineering, was awarded as 'hand sign pitching machine'
S-School, which is a business-linked project, exhibited the results of the 6-month project conducted by three companies (KDML, Intekplus, and Maxx Technologies) with our college student team, attracting much attention from companies and engineers. It was awarded the Minister of Industry and Commerce Minister's recognition in recognition of the achievement of industry-university cooperation. In the Student Portfolio Competition, which comprehensively assesses students' college life, student Jeon Myung-ho (computer engineering student) is awarded 'gold prize', student Oyu Lee (mechanical engineering student) Statue "award. In addition, students from 12 universities in nine countries including India participated in the International Capstone Design Competition organized by the Center for Engineering Education at SeoulTech
SeoulTech's Kim Dae-gon of the Center for Engineering Education Innovation said, "Seoul Science and Technology University students have been actively participating in various fields and have demonstrated the power of Seoul National University of Science and Technology. We will lead the way to nurture talent. "