At the presentation of awarding ceremony items for the PyeongChang 2018 Winter Games held at the Korea Press Center in Seoul on December 27, the items were unveiled, including the medal podium that will accompany glorious moments of the Olympic Games and award tray, which were designed by installation art professor Kyungwoo Han of the Department of Fine Arts of Seoul National University of Science and Technology.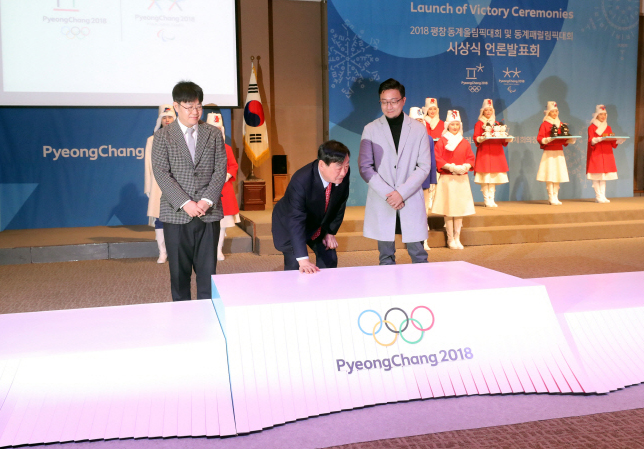 ▲ President and CEO Hee-beom Lee of the PyeongChang Organizing Committee for the
2018 Olympic and Paralympic Winter Games (POCOG) is examining the design of the medal podium. On the right is Professor Kyungwoo Han, who was responsible for its design (photo source: Edaily).

The awarding ceremony items presented on this day focused on providing an experience unique to the PyeongChang 2018 Winter Games by conveying the sentiments, beauty, and warm heart of the Republic of Korea to the world, as well as fusing traditional and modern, together with Eastern and Western beauty, into their design. In particular, the medal podium has applied features of beautiful traditional Korean tile-roof architecture and traditional multicolored paintwork on wooden buildings in white color to make people imagine of white snow fallen on tile roofs. In addition, it was designed into a module for convenient moving and installation. Furthermore, a slope will be separately installed for easier wheelchair access by athletes and winners during the Paralympic Games. The podium is evaluated as being excellently ergonomically designed.

"I produced them in the form of artworks to artistically express the Olympic spirit and value," said Professor Kyungwoo Han who designed the medal podium and award tray. "I did my best to show the intrinsic beauty of Korea under the motif of traditional Korean architectural features," he continued.

During the day's event, POCOG also disclosed the costumes to be worn by the awarding staff, award tray, awarded items, and award music to be played during the upcoming Olympic and Paralympic Games, targeting Korean and international media at the International Meeting Room of the center. Awarding ceremonies will be held 103 times during the Olympic Winter Games PyeongChang 2018 and 80 times during the PyeongChang 2018 Paralympic Winter Games.