"Zero-100 Team," consisting of undergraduate students majoring in Manufacturing Systems and Design Engineering (Yun-won Seo and Gi-tae Ju), and Global Technology Management (Yun-jo Jeong and Hyeon-ung Yun) at the College of Business and Technology of Seoul National University of Science and Technology (and Jiyeong Jeong of Duksung Women's University), won the Excellence Award at the "H-Ombudsman Festival" organized by Hyundai Motors in November.
"Zero-100 Team," which won the Excellence Award , participated in the festival with their project called "Delight" in the field of "social innovation" by proposing measures to solve social issues with the capacity of Hyundai Motors. They engaged in activities for 7 months from May to December 2017. The team came up with a way to improve the mobility rights of handicapped people based on the idea of "Dvery Car," a car-sharing service recently launched by Hyundai Motors together with Hyundai Capital. The Delight program is a car-sharing service that helps the severely handicapped who cannot move outside the city do so. The team had the honor of winning the Excellence Award because they utilized well Hyundai Motors' capacity and took into consideration the handicapped having difficulty moving around, which were highly evaluated.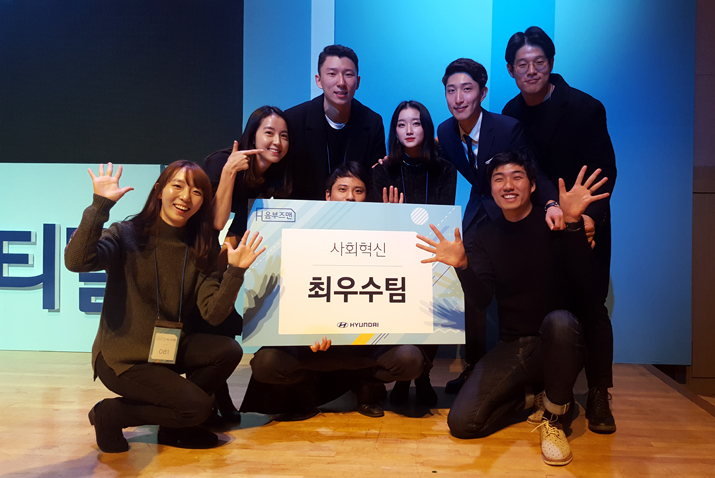 ▲ "Zero-100 Team" is taking a commemorative photo of its having won the Excellence Award at Hyundai Motors' H-Ombudsman Festival."

The H-Ombudsman Festival, now on its second year this year, is a festival held under the themes of Customer Value Innovation, Product Innovation, and Social Innovation for Hyundai Motors to actively adopt improvements in areas in such need viewed from the perspective of general consumers.