SeoulTech's venture company, Saean (CEO Lee Jung-yong), has signed a memorandum of understanding with Malaysia's Ministry of International Trade and Industry (MTI) in Malaysia on November 10 at the Malaysian Auto Show (KLIAS) in Kuala Lumpur, Malaysia. Signed an MOU with the Automotive Research Institute (MAI) for business cooperation. This is the first agreement between Malaysian government agencies and domestic electric car companies.
The MOU signing was attended by Saean Representative Lee Jung Yong, President of the Malaysian Automobile Research Institute (MAI) Daituk Madani Safari, Chairman of the Malay Consultative Council MPM (Malay Consultative Council), Chairman of the Malaysia Global Cornerstone Group (GCG). It was concluded in the form of a four - party agreement. Following the signing of the MOU, MAI will share information and know-how related to electric vehicles and exchange information on technological innovation and commercialization as well as developing and researching electric vehicles. In addition, MPM and GCG are actively helping these agencies make the convention go well and efficiently.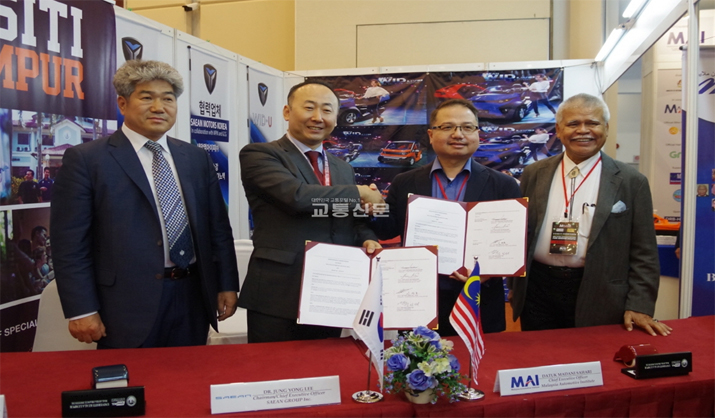 ▲ (From left) GCG Chairman Sung Tae Kang, Saean Representative Lee Jung Yong, MAI Chairman Daituk Madani Safari and MPM Chairman Dato Hassan Bin Med
"We hope that this cooperation will provide the basis for the development of the Malaysian automobile industry, Lee Jung-yong, representative of Saean, said, "We will give the best know-how to build electric cars that have been built for more than 20 years and help Malaysia become a major player of Southeast Asia electric car. We are confident that green light has been heard in Southeast Asia."
Saean will also actively participate in technical trainings on electric cars at universities in Malaysia. He has signed a letter of intent (LOI) with the University of Kuala Lumpur (UniKL) and Pahang University (PAHANG), respectively, and promised to participate in research and education activities related to electric cars.
"I am grateful to the new MPM and GCG for their long-term electric vehicle technology and industrial development," said the college presidents, who cooperated with the company. I hope that Malaysia becomes a leading country in the electric car market. "
On the other hand, Saean participated in the Malaysian Auto Show held in Kuala Lumpur, Malaysia from November 8 to 12, 2008, and participated in seminars related to electric cars and got great response from local people. Many experts related to the 4th industrial revolution including electric car, as well as local media such as 'Utsusan Malayu' showed great interest in new technology and cooperation with Malaysia in the future.