SeoulTech (President Kim Jong-ho) held a groundbreaking ceremony for the "Creative Convergence Research Center" for research on cutting edge convergence and fostering creative convergence talents on November 8 with plans to finish construction by December 2019.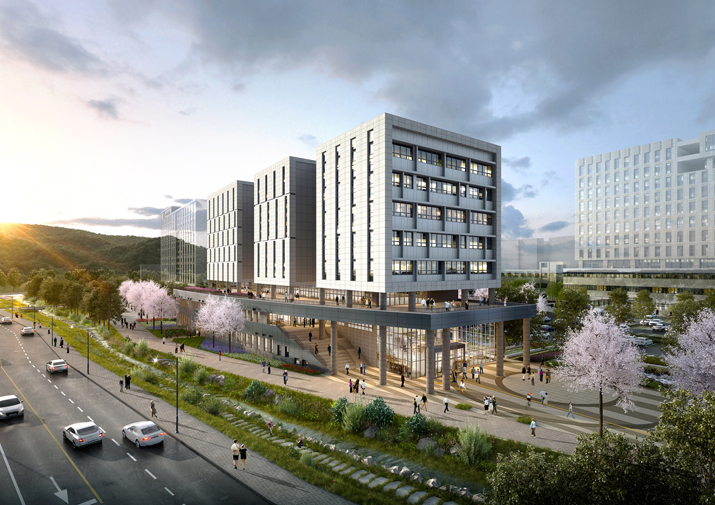 ▲ The total funds for the project are 31.8 billion KRW. A blueprint for the new Creative Convergence Research Center that is 8 stories tall and has an area of 15,000㎡
The ceremony was attended by many professors and students including President Kim Jong Ho, Vice President Kim Yeon-tae, Vice-Chief of Research and Academic Affairs of R & D Department, Dean of College, Major Applicants, and more than ten employees of related companies including Elim Construction Representative Lee Jong Man.
President Kim said, "Building a creative fusion research center will enhance national competitiveness through the development of convergence technology, which is the driving force of future development, and will be a momentum for realizing the university philosophy of contributing to the future of our country and humanity."
The new Creative Convergence Research Center building is constructed with 1 floor underground, 8 floors above the ground, 15,000 square meters in floor space, total investment of 31.8 billion won. It will include creative fusion research cluster, research and development integrated cluster, architecture and space research cluster, humanities fusion cluster and administrative support facility. In particular, the building will be equipped with facilities designed to minimize energy consumption and environmental impact, designed to achieve the first grade of energy efficiency and the best grade for green buildings. It will be equipped with a BF (Barrer-Free) So that there is no inconvenience to use.
The creation of the Creative Convergence Research Building has been promoted by SeoulTech as a center of research and development of innovative convergence technology by attracting world-class convergence researchers and cultivating creative convergence talents by utilizing university characteristics that have strengths in engineering and design. To do this, we started the design in 2015, completed the construction consultation in December 2016, and reached the ground breaking ceremony.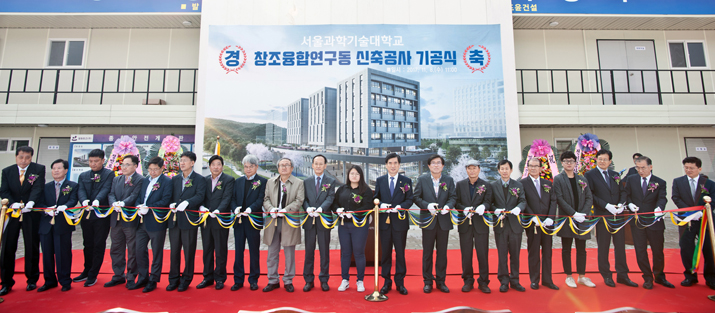 ▲ Distinguished guests taking a photo before the tape-cutting ceremony for the Creative Convergence Research Center.