Kim Jong-ho, President of Seoul National University of Science and Technology, made a visit to the new exchange university with a visit to the existing exchange university through a visit to the University of Eastern Europe on the 9th and 7th nights from October 14th to October 22nd. The visiting team, consisting of President Kim Jong Ho, including Professor Kim Jin-wook, Director of International Education at Nam Ki-hun, and international exchange practitioners, visited four universities in Hungary, Romania and the Czech Republic.

The visiting team visited Pazmany Peter Catholic University in Hungary and Budapest Metropolitan University in Budapest to sign new academic exchange agreements. In Romania, they visited the Czech Technical University in Prague with the Romanian American University in 2007 to strengthen exchange and cooperation. In particular, they met students who are currently studying as exchange students in the Czech University of Technology and the Czech University of Life Sciences Prague.
In addition, this business trip gave a dinner at the Korean Embassy in Romania at the invitation of Ambassador Kim Eun Joong, Ambassador of Romania to the University of Eastern Europe, and discussed ways to promote student exchange and internship between SeoulTech and Romania.
"The opportunity to start the first exchange with Hungary through this trip to Eastern Europe," said President Kim Jong-ho, "In particular, by applying for the ERASMUS + program with European universities in 2018, we will provide a scholarship program to exchange students in Europe. "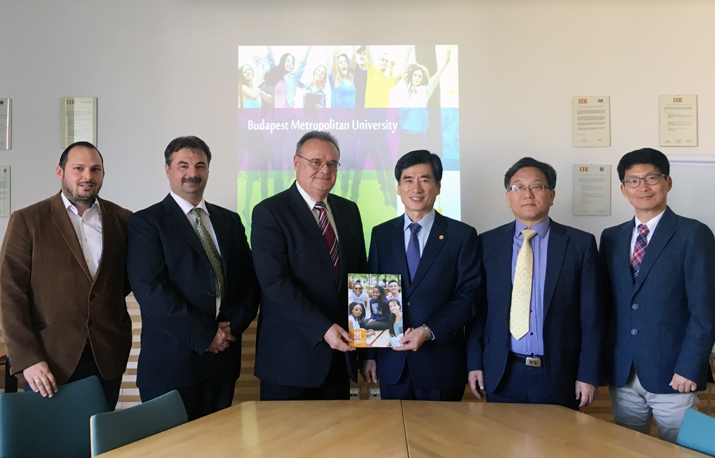 ▲ (From the third left) Metropolitan v. Habilla Slavas and President Kim Jong-ho are taking commemorative photos of the agreement.
* Agreements with new universities
1. Pazmany Peter Catholic University
· Type of agreement: MOU
· Exchange: exchanges of students, professors, staff and researchers, encouraging joint research, and other mutual agreements
· University introduction: Private university located in Budapest, Hungary. Students exchange information, communication, energy biotechnology, and humanities and social studies at our university.
·Website:http://www.ppke.hu/

2. Budapest Metropolitan University
· Type of Agreement: MOU, Exchange Student Agreement
· Exchange field: exchange of two students per year, mutual exemption of tuition fees (private dormitory fee), exchange of students, professors, staff and researchers, joint research promotion, and other mutual agreements
· University introduction: Private university located in Budapest, Hungary. Students exchange with students from the University of Technology, Business Administration and Technology Management Convergence University.
· Website : http://www.metropolitan.hu/