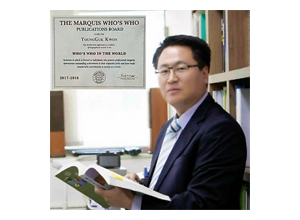 Professor Kwon Young-guk of the Safety Engineering Department at Seoul National University of Science and Technology was listed on the "Marquis Who's Who in the World" The Marquis Who's Who Dictionary of Life, which is selected based on its status in various fields such as politics, economy, society, religion, science and arts, and remarkable achievements and reputations, is composed of the American Life Information Organization (ABI) IBC), which is the world's third-largest dictionary of human life.
Professor Kwon Young-guk received an exceptional degree in both Ergonomics and Management Information Systems (MIS). He has also been awarded the Distinguished Paper Award by the Korea Railroad Society for the first time, including the Student Research Award at the Texas Tech University in the United States. He is also the recipient of the Distinguished Paper Award in 2006, 2012 and 2017, He was invited to speak at a global conference including the International Conference on Prevention (ORP).
Professor Kwon has been working as a safety adviser for Samsung Group, vice chairman and editor of the Korea Consumer Safety Association, and editor of the Korea Elevator Association. Professor Kwon has been conducting research on safety engineering for 25 years. ), And the Korean Society for Human Engineering (KES), the Korea Consumer Safety Association (KCSA), the Korea Safety Association (KOSOS), and the Korean Industrial Engineering Society (KIES).
In the meantime, Professor Kwon Young-guk will establish an `International Advisory Company` with experts from all over the world in the near future to conduct research and consulting activities on a continuous basis.