Learning about Korea through the 2017 SeoulTech International Summer School (STISS) and Falling in Love with Seoul Tech
84 International Participants from 21 Countries and 35 Universities
On July 28, the SeoulTech International Summer School (STISS) hosted by the SeoulTech International Education Department began. STISS, in its 10th year, opened successfully with 84 students from 21 countries and 35 universities participating in the two week event which was held from July 17 through July 28.
SeoulTech, through STISS 2017, offered students from countries around the world such as Germany, Iran, China, Spain and the UK, with opportunities to participate in courses such as Korean, temple stays, Korean cooking, writing with brushes, traditional dances, K-POP dances and taekwondo. STISS started with Asian universities in 2008 and began expanding the program to US, European and Middle Eastern universities in 2011 in order to display the excellence of Korean culture and SeoulTech's educational infrastructure.
During the opening ceremony, President Kim Jong Ho said that he welcomed all students visiting SeoulTech and hope that STISS would provide them with an opportunity to become closer with Korea during the short two weeks.
International Education Department Head Nam Ki Heon said, "STISS is held every year in order to achieve a balance between exchanges with other universities and to expand our own exchange programs. STISS is a program with a high rate of satisfaction for foreign students who are thinking of studying in Korea or participating in exchange programs."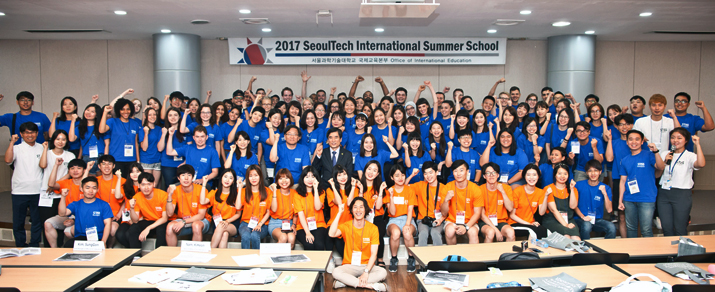 ▲ President Kim Jong Ho, International Education Department Head Nam Ki Heon and the participants of the 2017 STISS taking a ceremonial photo at the opening ceremony.


▲ 2017 STISS Video