Design Major Graduate Kim Na Yoon Holds a Large Scale Exhibition at the Tai Po Mega Mall in Hong Kong
Exhibited in the Tai Po Mega Mall, one of the biggest malls in Hong Kong, on the Basis of Her Capstone Design Graduate Project
Many life size characters and ice cream characters decorate the wall that draw the attention of visitors on the first floor of the Hong Kong Tai Po Mega Mall. The person who created these characters that are popular in Hong Kong is none other than Kim Na Yoon (President of Kim Kim Lab), who graduated from SeoulTech's Design Major in August 2016 and is exhibiting her characters at Hong Kong's Tai Po Mega Mall from September 15th to August 30th.

Kim, who was a student in the Industrial Design Program of the Design Major, had never learned characters during her undergraduate years and was an ordinary student who was busy taking courses like other students. In her senior year, she did not have any work of art that she liked and spent her last year creating a piece of art that embraced her colors as part of her graduate Capstone Design project.
In 2015, her last year at SeoulTech, Kim went to the LINC Creative Fusion Center and received KRW 2,000,000 in funding as part of the Capstone Design Group Support Project to create a prototype. In addition, she used the school's 3D printers to create a prototype called the 'I Scream' toy candle.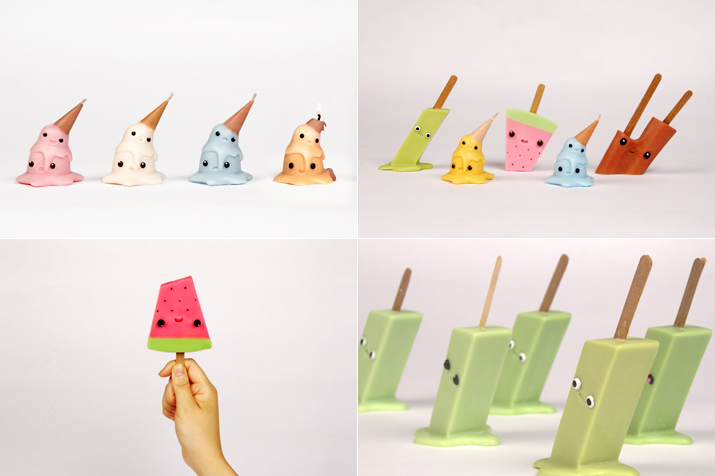 ▲ Kim's Capstone Design Project: 'I Scream' Toy Candle
"I only exhibited the work that I had done for my graduate project that I really loved and was surprised that my work became popular on social networks."
After her graduate exhibition, she was able to participate in external exhibitions and naturally made her first sale. The name that she came up with for her first sales was "Kim Kim Lab." During the five days of the exhibition, she not only sold all of her toy candles but also the candles that were on exhibition. She received a lot of interest from various selective stores and naturally started her business.
After eight months, she received a Facebook message that a Hong Kong company would like to decorate the mall with her characters and the Tai Po Mega Mall exhibition began in September with a lot of media and relevant market interest in the project.

▲ A photo of the character sculpture exhibited at Hong Kong's Tai Po Mega Mall
Kim said, "For a new artist who is not well known, this kind of an opportunity would not be offered even in Korea but it came from other countries as well. After finishing the Hong Kong exhibition, I came back to Korea as a relatively unknown artist but I felt that the opportunities that lie outside of Korea for new artists and want to be of help in allowing unknown artists to be known in Korea and also hope that I can help in offering equal opportunities to a wide variety of artists."