Dear International and Korean students at SeoulTech,
Thank you everyone for your attendance and participation to the 38th International Coffee Hour. We had a great turn out from both international and Korean students, and we recorded highest attendance so far. Approximate 150 students came fromall over the world, so thank you!
The theme for this coffee hour was "Chuseok," Korean Traditional Thanksgiving Day. Participants experienced Korean trandtional snakcs, 송편(Song-pyeon), 인절미(Injeolmi), 한과(Hankwa), and 호두과자 (Hodukwanja), and plyed some Korean tranditional games like 윷놀이(Yut), 제기차기(Jegichaki), and 팽이 (Paengee).
There was an impromptu Jegichaki contest, where contestants demonstrated how many times they could kick the Jegi. The highest record was by Sunghwan from Korea with 21 kicks, and 2nd highest record was by Bilguun from Mongolia with 21 hits. Bravo! :D
We hope you all enjoyed the first International Coffee Hours this semester. Next coffee hour will feature "Samulnori," Korean raditional percussion quartet. Come and enjoy Korean tranditional music and dance, as well as try out some of the instrumements. We hope to see you all next month!
- Languaeg Education Team, Office of Internatioal Education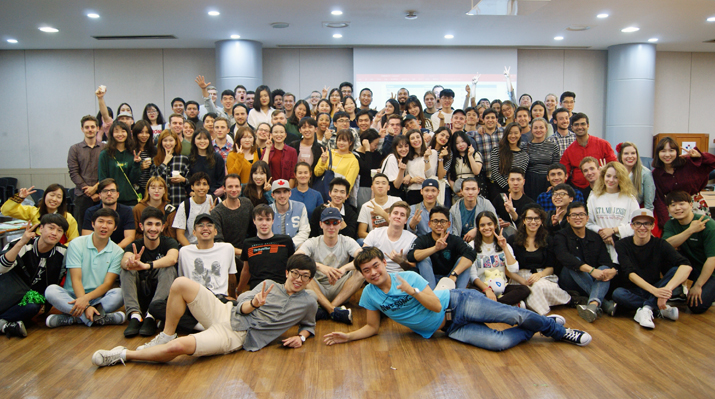 ▲ Group photo at the 38th Internaitonal Coffee Hour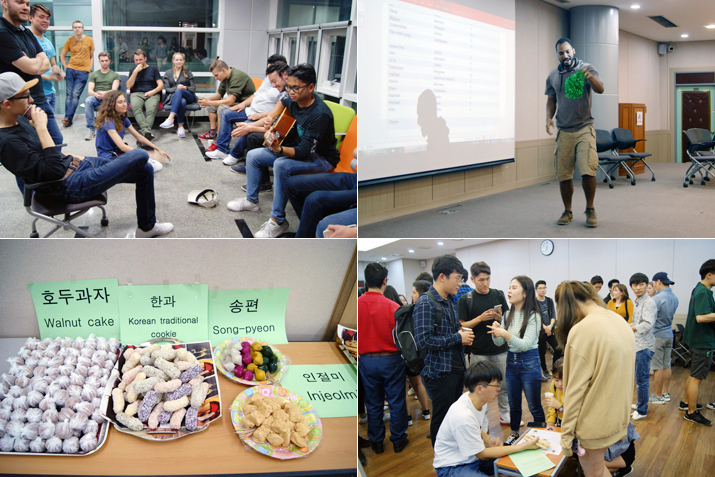 ▲ With a theme of "Happy Chuseok," participants expeirenced Korean traditional snacks and games.