SeoulTech s a Cooperation Network with 9 Other Northeastern Seoul Region Universities
Expected to implement additional academic exchanges, joint research programs, and cultural and volunteer work program exchanges for students, among other activities

On April 27th, SeoulTech and nine other universities located in Northeastern Seoul (Kwangwoon University, Kookmin University, Duksung Women's University, Dongduk Women's University, Samyook University, Seokyeong University, Seoul Women's University, Sungshin Women's University, and Hansung University) signed an exchange agreement for the creation of a cooperation system at the President's Hotel in Joonggu, Seoul.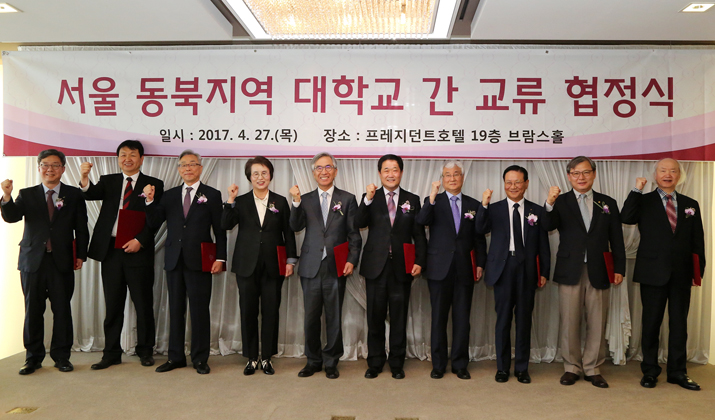 ▲ The 10 universities of the Seoul Northeastern region taking a ceremonial photo after signing the exchange agreement at the President's Hotel on May 27th (From Left) Seokyeong University Academic Affairs Director Jung Han Kyung, Sungshin Women's University Vice President Kim Sung Bok, Hansung University President Lee Sang Han, Seoul Women's University President Jeon Hye Jung, SeoulTech Academic Department Vice President Kim Yeon Tae, Samyook University Vice President Oh Deok Shin, Dongduk Women's University President Kim Nak Hoon, Duksung Women's University President Lee Won Bok, Kookmin University External Cooperation Department President Yoon Kyung Woo, and Kwangwoon University President Chun Jang Ho
This agreement was made to support the symbiotic development of the ten universities located in the northeastern region of Seoul (Nowongu, Dobonggu, Seongbukgu) and to cooperate in the sharing and exchange of educational resources. At the signing ceremony, the ten universities agreed to cooperate on the joint development of educational processes and programs for the education of professors, the joint operation of courses – e.g. by opening online courses –, the operation of academic exchange and joint research programs, and the development of cultural and volunteer work programs for students.
The universities agreed to promote the sharing of facilities and information infrastructure, the joint participation in government- and regional government-supported projects, the sharing and enhancement of industrial-academic cooperation, and the creation of a foundation for the training of startup entrepreneurs and for entrepreneurship support, among other activities.
SeoulTech Academic Department Vice President Kim Yeon Tae said at the signing ceremony, "It is a global trend for universities to knock down the walls between one another and to work together. This agreement will allow universities to come up with practical and specific ways to collaborate with one another in the educational sector."