SeoulTech Chosen as a New Operating Institution for the Small and Medium Business Administration's Research Village Project
Set to receive 4.6 billion KRW in funds over two years for the operation of the IBT Fusion SeoulTech Research Village
On March 13, 2017, the Small and Medium Business Administration (SMBA) chose SeoulTech as a new operating institution of the Research Village Project set to create the IBT Fusion SeoulTech Research Village. IBT Fusion is defined as the combination of information technology and biotechnology. Research on IoT-based biomedical engineering, cosmetics, and other relevant technologies specializing in biology, cosmetics, and smart media devices will begin shortly. The Research Village Project is an industrial-academic cooperation project that supports the research and development of small and medium businesses through the use of the university's research facilities, support, and infrastructure.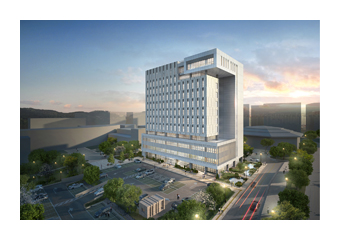 SeoulTech's Research Village will be based on the SMBA's R&D Research Development Strategy Roadmap and will adopt a middle group strategy reflecting the policy directions for the local economy of Seoul in order to act as a bridge between relevant industries and the local community.
In consideration of the effect the project will have on the development of the Northeast Seoul economy and to support the commercialization of startup companies that will work in the Research Village, the Seoul city government will provide 200 million KRW in investment funds annually. The Nowon-gu council is also considering the effect the project will have on the local economy and on the creation of new jobs, and is discussing ways to support the project.
(Picture) A model of the Industrial-Academic Research Facility to be completed in October 2017. It is expected to be a hub for SeoulTech's research and industrial-academic cooperation efforts.
Companies will be selected to operate in the Research Village at the end of May based on reviews from the Research Village and professional institutions. The small and medium businesses chosen will receive an annual 200 million KRW in support funds for two years, and will use SeoulTech's research personnel, equipment, and infrastructure to develop their key technologies and commercialization efforts. Inquiries about receiving support can be forwarded to the SeoulTech Industrial-Academic Cooperation Team.
Research and Industrial Academic Department President and Industrial Academic Team Head Professor Park Ik Geun said, "SeoulTech will expand its existing small and medium business support activities and will create a model to lead the development of the local economy. In order to cement our position as a research and development center contributing to the development of the local economy, we will concentrate our small and medium business research functions with the first integrated TMC project in the nation, the operation of the Seoul United University Technology Holding Company together with five other universities, the Korea Nuclear Medical Institution, the creation of a collaborative relationship with the Seoul Techno Park, and participation in the Hongreung Forum project and the Research Village."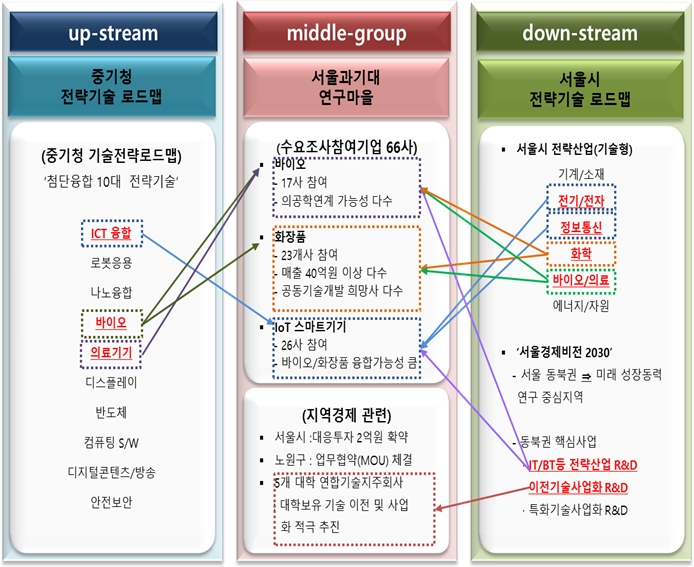 ▲ The SeoulTech Research Village as a middle group