SeoulTech to Receive 6 Billion KRW Over 3 Years Following Selection in the "Leading Entrepreneurship University Development Project"
Expected to become a leader in tailored entrepreneurship education with the "Fit-Stone" entrepreneurship education brand

SeoulTech (President: Kim Jong Ho) was chosen to participate in the "Leading Entrepreneurship University Development Project" organized by the Small and Medium Business Administration on March 20th. The project selects universities that offer entrepreneurship support and infrastructure and develops them into entrepreneurship support footholds that can deliver systematic technical entrepreneurship support to students and citizens.
As such, from 2017, SeoulTech will receive a maximum of 6 billion KRW in supporting funds over three years for the development of a global leading accelerator campus through the creation of the Fit-Stone (post-Capstone) design entrepreneurship support model program. In addition, as core elements of the Fit-Stone program, the university will offer entrepreneurship courses to university students, support with the commercialization of entrepreneurship products, and voluntary and specialized programs to provide a global Korean-style entrepreneurship education.
The Fit-Stone program is the next-generation Capstone design program. Its name encapsulates the ideas of "fitness", the "fitting process", and "profit." It will be designed as SeoulTech's new entrepreneurship education brand to reflect the university's focus on innovation in college educational experience through a tailored entrepreneurship support program. There have already been successful examples of student entrepreneurship. For instance, BlueLeo Co., Ltd. is a SeoulTech student start-up offering "suction toothbrushes" that started out as a school club and grew into a company. It now exports products around the world and earned approximately 460 million KRW in revenue in 2016. It has also received 300 million KRW in investments.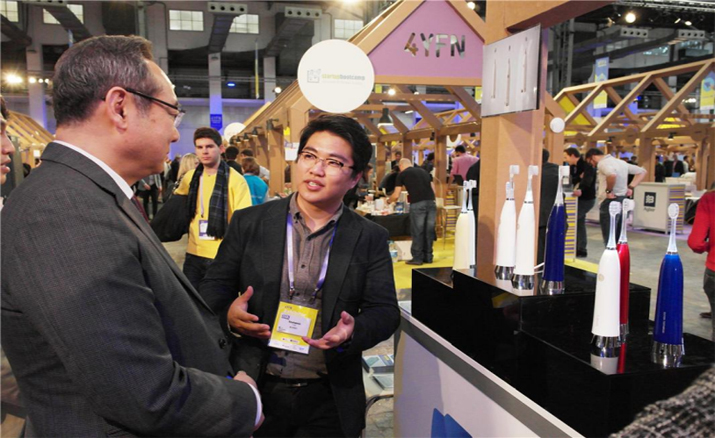 ▲ BlueLeo Co., Ltd. President Seung Min Lee explaining products to local buyers at Spain MMC-YFN 2016
Entrepreneurship Support Director Sun Min Kim said, "Our selection as a project member is a result of our campus system, which has allowed for the systemization and development of our entrepreneurship-related programs, ranging from practical entrepreneurship to global entrepreneurship. We will do our best to use our entrepreneurship support capabilities to become a leading entrepreneurship university through the Fit-Stone strategy."
In 2013, SeoulTech was recognized by the Ministry of Education and the Korea Research Foundation as an "Excellent Student Entrepreneurship Education University" for its creation of an entrepreneurship education system in three stages (creation, development, and growth). The university also received the award for excellence in entrepreneurship education from the Presidential Council for Youth in 2016.