A delegation from the Shenzhen Institutes of Advanced Technology (SIAT) under the Chinese Academy of Sciences visited SeoulTech (President Kim Jong Ho) on February 27th as part of the Korea-China Technology Commercialization Cooperation Advancement Agreement and to officially start cooperation on the basic research progress and technology commercialization platform.
SIAT is a research institution in which more than 2,000 researchers study in fields such as advanced computing, intelligence systems, biomedicine, etc. and earns more than 10B KRW annually in patent licensing alone. SIAT is also expanding its technology transfers with more than 1,000 companies. On December 9th, 2016, SeoulTech signed the Korea-China Technology Commercialization Cooperation Advancement Agreement along with the Research Progress Application Promotion Center, the Korea Institute of Science and Technology, Yonsei University and the Korea Intellectual Property Strategy Agency.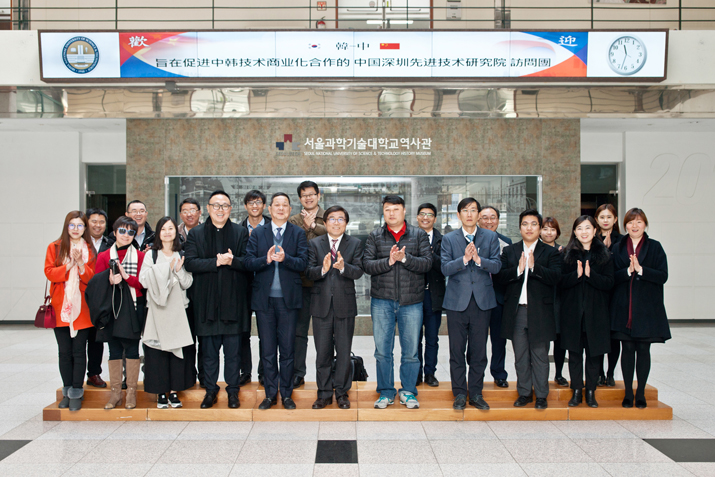 ▲ Ceremonial photo with the SIAT delegation to promote the cooperation of technology cooperation between Korea and China. SIAT Vice Director Xi Zhenguo (front row, fifth from the left) and SeoulTech Industrial Academic Cooperation Department Vice President Park Ik Geun (front row, sixth from the left)
The SeoulTech Delegation Welcoming Event began with a speech by Industrial Academic Cooperation Department Vice President Park Ik Geun introducing the department and its responsibilities with a meeting on the R&D progress and commercialization efforts of both institutions being reported. SeoulTech also displayed its commercialized products and introduced its technology. At the meeting, intelligent robots, medical devices and IoT products were prioritized with both sides agreeing to continuously discover new basic and key technology, conduct joint research projects, introduce new excellent businesses and offer technical consulting.

▲ (Left) Meeting held at the third floor of SeoulTech HQ
(Right) BlueLeo President Seung Min Lee, a SeoulTech start-up, explaining the suction function of a toothbrush product.
Vice President Park Ik Geun said, "We believe that the visit by the SIAT delegation is a green light for cooperation on the commercialization of our technology and that this opportunity has allowed our university to manage the commercialization of technology in the Northeast Seoul area. We will actively pursue the global commercialization of our university's technology to contribute to our domestic economy."
The SIAT delegation also visited the Korea Nuclear Medical Center, which operates joint research with SeoulTech and was able to listen to an explanation of the first domestically produced cyclotron. Also, the delegation visited important research facilities and showed a deep interest in domestic radiation medical engineering developments.