A Strong Start at the 2017 Kick-Off Meeting
"We believe in the development of SeoulTech even in hard circumstances."
SeoulTech (President, Kim Jong Ho) held its Kick-Off Meeting for 2017 with President Kim Jong Ho and 500 other faculty and board members on January 2, 2017 at the 100th Anniversary Hall, and promised a strong start to the new year.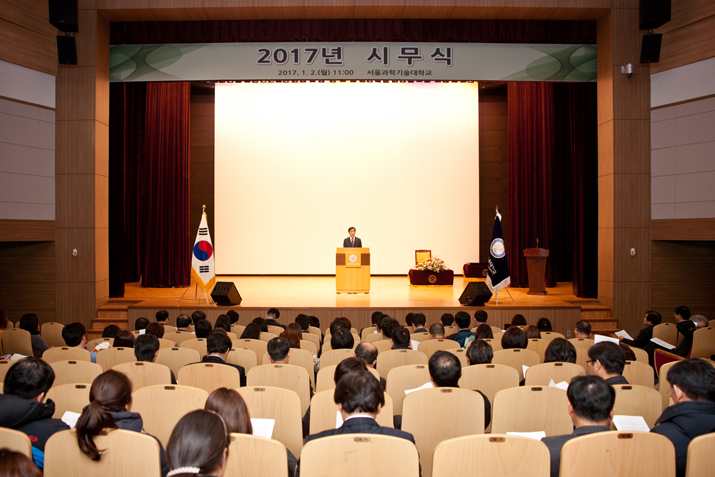 General Affairs Director Im Gwang Hwan hosted the event, which featured ceremonies for the Exemplary Public Servant Awards (the Prime Minister's Awards) and other government award, as well as the SeoulTech President's Awards to various faculty members and departments. President Kim Jong Ho also gave a new year's speech, and introduced new directors and faculty members. The event concluded with a rice cake soup lunch in the 2nd Student Council Building for all faculty members.
In his speech, President Kim said, "Our university will overcome the government's current ongoing structural changes, the labor cuts, and the revenue loss and rising expenditure caused by regulations against any increase in tuition fees since 2009. Even in these troubled times, if all 10,000 university members work together, we will be able to overcome any challenges facing us.".
▦ Government Awards
◆ Exemplary Public Servant Awards (Prime Minister's Awards) Student Support Department Yoo Jae Woo ◆ Contribution to the University Accounting System (Vice Prime Minister and Minister of Education Award) HQ Finance Department Park Geun Woong ◆ Contribution to Faculty Members and Gender Equality (Vice Prime Minister and Minister of Education Award) Department of Academic Affairs Kim Yong Tae ◆ Contribution to the National University Resource Management System (Vice Prime Minister and Minister of Education Award) Department of Planning and Review Yang Woo In ◆ Contribution to the Development of Specialized Universities (Vice Prime Minister and Minister of Education Award) Specialization Project Hwang Hyun Ah ◆ Reserve Forces Appreciation Award (56th Division) Information Communication College Yoon Sung Chul ◆ Contribution to University Information Sharing (Association of Korean Universities) Information Department Keum Chang Hee
▦ Department Awards (SeoulTech President's Awards)
▲ Academic Affairs Department Undergraduate Support Team ▲ HQ General Affairs Team ▲ HQ Facilities Department Electrical Support Team ▲ Admissions HQ Admissions Management Team ▲ College of Humanities and Social Studies 3rd Administration Team ▲ Graduate Studies 4th Administration Team
▦ Faculty Honors (SeoulTech President's Awards)
▲ Academic Affairs Undergraduate Support Team Wang Yoon Hee ▲ Student Affairs Department Student Support Seo Jung Ho ▲ Planning Department Planning and Review Jung Eun Ah ▲ HQ General Affairs Department Han Myung Gi ▲ HQ Finance Department Lee Jun Goo ▲ HQ Facilities Department Lee Han Shin ▲ Marketing Seo Myung Soo ▲ Information Administration Han Sung Yeon ▲ Dormitories Lee Hee Soon ▲ College of Engineering Moon Im Sook ▲ College of Information Communications Im Hun ▲ Graduate Studies Kim Yoon Jung ▲ Industrial Academic Studies Oh Mi Jung ▲ Industrial Academic Studies Oh Se Woong ▲ Industrial Academic Studies (Korea Knowledge and Strategy Center) Kim Hyung Nyun ▲ College of Engineering Baek Kwang Ok ▲ College of Engineering Park Hyo Sun ▲ College of Information Communications Kim Dan Bi ▲ College of Bio-Energy Kim Jay Joong ▲ College of Architecture Cho Dae Won ▲ College of Humanities and Social Sciences Kang Ji Hye ▲ College of Management Technology Yoo So Yeon ▲ Joint Laboratory Choi Sang Hee ▲ Korea Special Tasks Committee Myung Young Ja ▲ Korea Special Tasks Committee Kang Mi Ja ▲ S-One Kim Hyung Bae

Full Transcript of President Kim Jong Ho's 2017 New Year Speech

Good afternoon. The first sunrise of 2017 was bright, and brings with it new hope for the new year. I sincerely thank everyone for their effort in developing the school over the past year and hope that all your wishes for the new year will come true.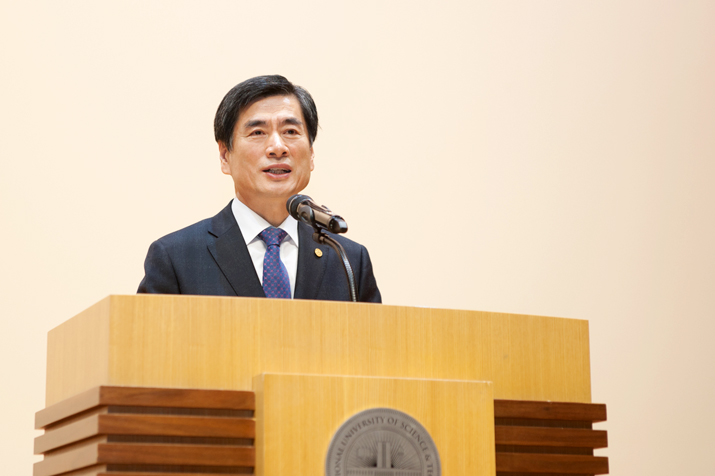 In 2016, there have been many good times, as well as challenging ones. We faced a negative review in the 2015 Ministry of Education's Comprehensive Review, we were not chosen for the High School Education Normalization Project, and we had to deal with our first sexual harassment situation. Despite these difficulties, we placed 23rd in the Joong Ang Daily's University Review, 3rd in English Literature, 7th in Management, and for the first time in our history, we ranked within the top 700 institutions in the QS International University Rankings. Moreover, our Capstone Design Program received the Grand Prize for Best Brand in Education from the Seoul Newspaper and the Grand Prize for Community Service from the Universities of Korea Newspaper. We received certifications to dispense 11 Engineering Education Certification programs, and were chosen by the Department of Education as the location for the ITRC Research Center Project and the Technology Exchange and Technology Holding Company TMC Project. We received top reviews from the National Human Rights Committee and the University Transparency Review, the Ministry of Education's Best Faculty Support Award, and Seoul City's Green Campus Energy Conservation Award.
Last year was my second year as University President, and I focused on restructuring our undergraduate studies and on increasing the efficiency of our academic administrative capabilities. We introduced a new Vice President position and worked to strengthen the overall condition of our graduate school. We created a new administrative and academic affairs management system, expanded scholarship grants, and created a more flexible human resources system. This will hopefully offer a foundation for both our undergraduate and graduate schools to develop jointly. Moreover, we made efforts to increase the efficiency of all majors offered by our College of Engineering and its administrative running, reduced the workload by simplifying administrative affairs and implementing more digital record-keeping, lowered our minimum graduation credit requirements to 130 credits to give our students more opportunities to prepare for employment and to choose the courses they really want to take, and created the freshman quarter system.
Respected professors, faculty members, and students!
Our university has an amazing infrastructure and is filled with great professors and students. We are a national general university located on a green campus in the heart of Seoul. We are the only institution with rising application rates at a time when they are generally decreasing, and I believe that we are starting to show our school's true worth in this era of adversity.
Even in the new year, SeoulTech will continue to develop, and will work to build a school that its alumni can be proud of. As such, I would like to briefly mention some of the upcoming developments to our school for the benefits of our professors, faculty members, and students.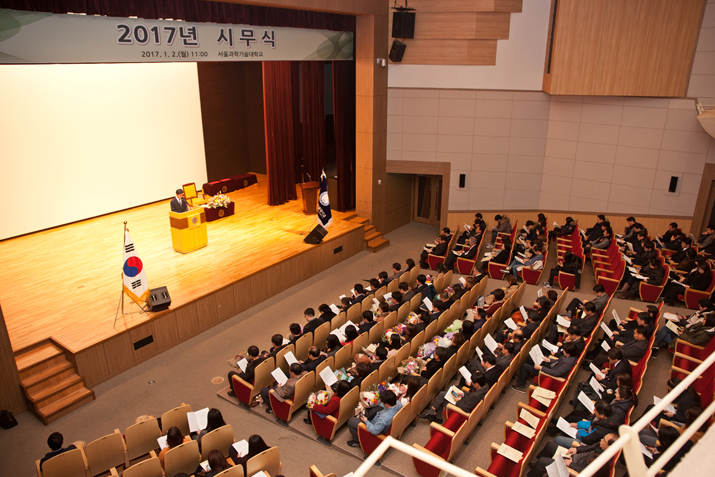 First, we will launch the first projects introduced by the Development Road Map.
In the last Executive Professors' Meeting, we introduced our long-term Development Road Map under the motto, "A Creative SeoulTech Creating a New Future for Mankind," and announced that we would strive to rank within the top 15 universities nationally and within the top 500 universities internationally. We also announced that we would work to make sure that SeoulTech was on the road to ranking within the top ten universities domestically and within the top 300 universities internationally in the long term. To realize our ambitions, we announced 5 main strategic directives and 10 key strategies, with 42 sub-goals.
Second, we will do our best to improve the quality of our education and environment.
We will support the transition from a lecture-focused education to a more participation-focused one that cultivates the exchange of ideas. We are experimenting with different forms of education by promoting the video recording of courses and by inviting additional foreign exchange students as part of our English Combined Information System to enhance the international experience at our university. We are also cooperating with other local universities to allow more course exchanges and additional K-MOOC courses, which will allow students to take more general courses and to explore different areas of interest. We will also continue to renovate our facilities to create larger lecture halls that will include state-of-the-art computers, microphones, beam projectors, etc., while also providing an environment that promotes participation in lectures. The construction of the Industrial Academic Research Center will be completed in 2017, and construction will then begin on the Creative Joint Research Center. 2017 will be another year in which SeoulTech will continue to focus on the creation of an environment that allows research and education to be enhanced by the University's facilities.
Third, we will discover and support new projects at the newly created Entrepreneurship Support Center and the University Education Reform Center.
The Entrepreneurship Support Center has developed the Entrepreneurship Joint Education Process to allow for more than 10% of our students to experience entrepreneurship opportunities. It provides programs such as entrepreneurship dual majors, the vitalization of entrepreneurship groups, facilities, leave of absences for entrepreneurship, and graduate school degrees based on experiential learning. We will design a university flowing with entrepreneurship in our laboratories and research centers for the benefit of our professors and students.
The Education Policy Center of the newly established University Education Reform Center will create systems and policies to enhance soft skills on non-curricular programs and systematic education on major programs and general education programs. We hope that these efforts will allow students to apply their general education on their majors and to grow into creative geniuses who will not only have the skills to carry out their tasks, but who can also collaborate in different fields.
Fourth, we will continue to expand the support and care to our students and faculty members.
The performance hall located within the library is expected to open in March. It is a mid-size theater that will be able to seat approximately 100 people and will have the capacity to host student activities, musical events, talk concerts, performances, and other cultural events. Moreover, the Industrial Academic Center that will open in Fall 2017 will provide students and faculty members with a top-class cafeteria and lounge where people will be able to meet and converse with each other freely. In addition, the remodeling of the 1st Student Council Building will provide more space for students to carry out group activities.
We will also continue to expand support to students and faculty members and their cultural/community service group activities. The research budgets will be increased, a one-time research fund management system will be offered, and a decrease in professors' allotted teaching hours and other various funding and support policies will be implemented in the new year. We hope that these efforts will enhance the educational and research capabilities of our professors and will increase our students' satisfaction.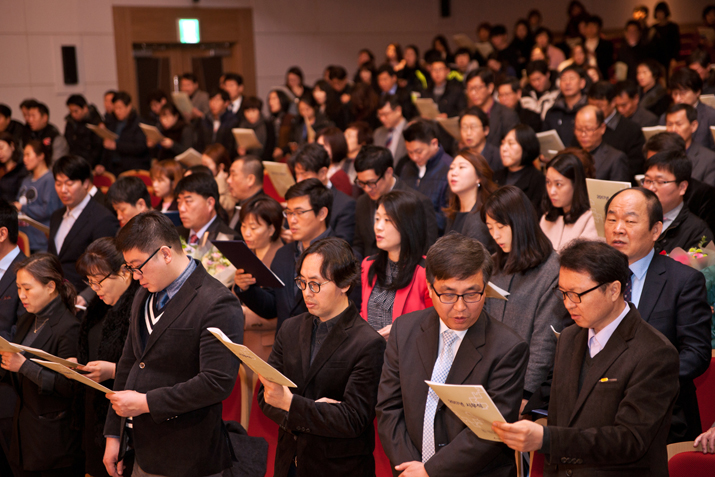 Fifth, we will continue to simplify the University's administrative work and to increase its administrative efficiency.
Our administrative efficiency policies will be tested within the College of Engineering. The simplification of administrative work starts not just with the department, but with the administrative department itself. We are trying to create a system that will allow for such simplifications starting from the administrative department. We will try to decrease the amount of administrative work so that only one assistant will be able to handle the teaching plans, student management, and support funding duties. We will work to create a better internal research fund distribution and adjustment system so that professors can access their research funds quickly.
Moreover, as part of the Ministry of Education's Resource Management Development Project, all national universities will switch to the KORUS system. Pre-existing ERPs, industrial academic research support systems, and the electronic payment system will be replaced with the KORUS system. While we expect some initial glitches with the program, we will ensure that any problems are quickly solved. If you have any recommendations about the inefficiencies faced by SeoulTech community members, please let us know. We will make sure that these ideas are circulated, and are planning to introduce awards for excellent ideas.
Respected professors, faculty members, and students!
SeoulTech is on the verge of becoming a top-class university. With our endless potential, we plan to come to rank within the top 15 universities nationally and within the top 500 universities internationally by 2020. However, as we are a national university, the world around us is filled with challenges, including the government's ongoing structural reforms, budget cuts, and rising expenditures coupled with decreasing revenues.
However, I believe in SeoulTech's development potential, and that if we continue to work together, we will be able to overcome any adversity. I ask our professors, faculty members, students, and our 10,000 SeoulTech alumni for their continuous help and support.
Thank you for tackling the many challenges that we faced last year and for working together to create a stronger and happier SeoulTech. I hope that 2017 will bring you and your families good health and happiness.
Thank you.
January 2, 2017
SeoulTech President Kim Jong Ho