Invited as part of the "Business-R&D Human Resource Development Project" of the Graduate School of Energy and Environment
Seoultech invited Professor John Byrne, the 2007 Nobel Peace Prize winner, to hold a special lecture on the "Energy Industry Outlook after the Paris Climate Convention" at the University's Da Vinci Pavilion on November 4th.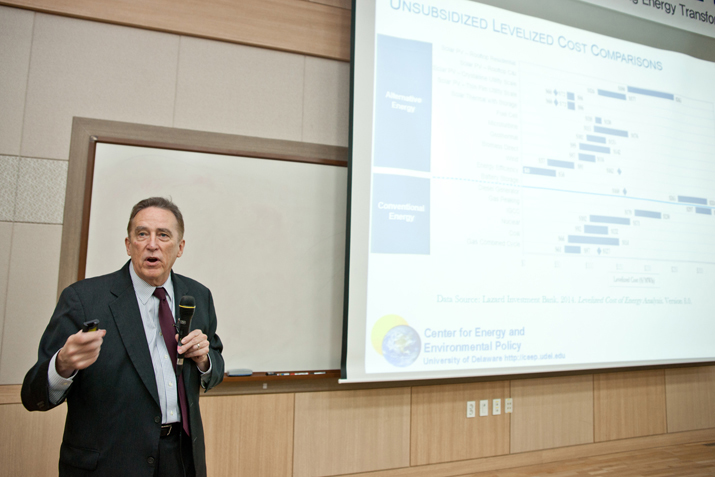 ▲ Professor John Byrne from the University of Delaware gave a special lecture on "The Prospects of the Energy Industry after the Paris Climate Pact".

This lecture was part of the "business-oriented R&D manpower training project" of SeoulTech's Graduate School of Energy and Environment
Professor John Byrne works in the field of energy and climate change to expand the prospects and insights of the changing energy industry since the Paris Climate Convention at the University of Delaware. In a speech on the day, he said, "Many people think that nuclear power plants are inexpensive and power generation efficient. It's never cheaper than renewable energy. In the future, energy policy will mature through citizen-led energy democracy."

The business-related R&D manpower training project is organized by the Ministry of Industry and Commerce and the Korea Industrial Technology Development Organization.
It is designed to build a new industry-university cooperation system through joint R&D and human resources training between companies and universities. Currently, SeoulTech's Graduate School of Energy and Environment is participating as a "Human Resource Development Consortium to customize the commercialization of the bio-energy development business". The project is scheduled to be completed in 2020.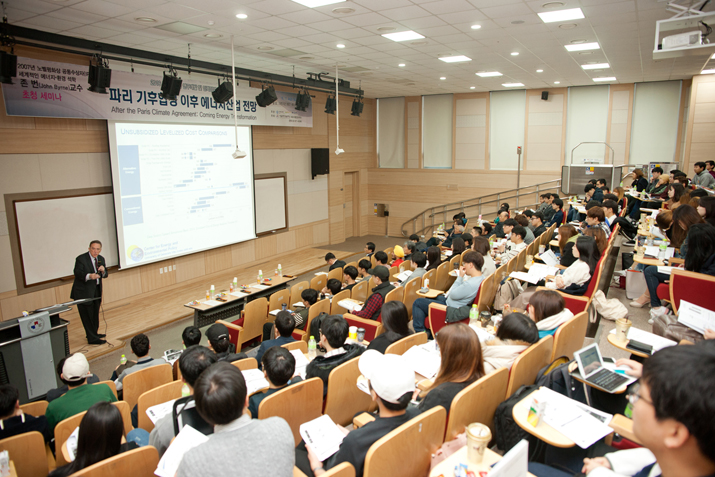 ▲ Students filled the lecture room of the Da Vinci Pavilion to listen to the lecture.