Establishment of joint research institute and doctoral course with KIST
An agreement was concluded to establish a department of machinery, electronics, material, life science, and chemical industry within the graduate school
On 6th October, SeoulTech (President, Kim Jong Ho) and the Korea Institute of Science and Technology (KIST, Director Lee Byeong Kwon) concluded an agreement to open a graduate school, a master's course, and a doctoral course in accordance with the recognition that "close cooperation is needed to foster specialized technicians in science and technology".
Master's and doctoral courses will be developed to "nurture professional manpower for science and technology development" in the following fields: ▲ Mechanics and electronics, ▲ Materials, and ▲ Life sciences and chemical engineering.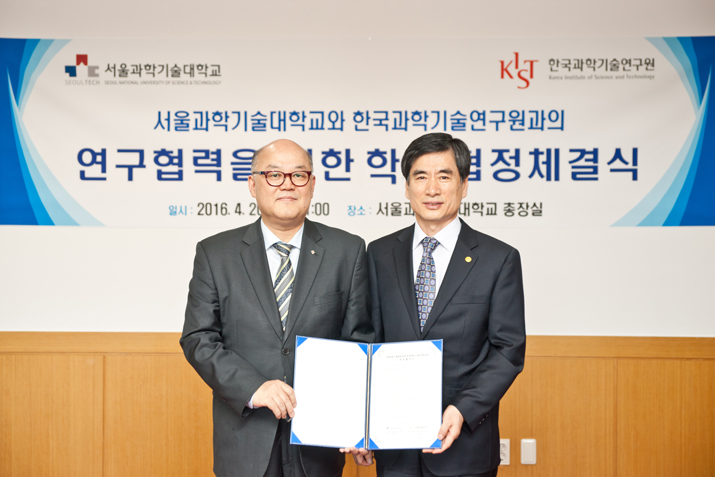 ▲ In April, SeoulTech and KIST organized a ceremony to celebrate the conclusion of the
research agreement before the establishment of a joint research graduate school.
Through this cooperation, the two institutes will launch joint research and postdoctoral research courses (including integrated courses) within the Graduate School of SeoulTech and will jointly utilize the human resources, equipment, facilities, and experimental exercise equipment necessary for academic learning and research, so as to nurture professional technicians for the development of science and technology.
The agreement for the establishment of a joint research institute and joint master's and doctorate courses will enhance SeoulTech's status as a leading university since its transition into a university in 2012, and will allow for remarkable achievements in the fields of education and research.

On the day, the two organizations agreed on the operation of the curriculum, teaching, and dissertation guidance, as well as on the establishment of a managing committee and a doctoral courses operating committee to discuss issues in the field of study and other details related to the establishment and operation of the department.

SeoulTech President Kim Jong-ho said, "Through this agreement to open a research institute and master's and doctorate courses together, the two institutes will be able to fulfill more of the responsibilities required by the country through the training and development of technological experts based on joint research. I am glad and proud to be able to sign this agreement. "