2016 Capstone graduation work presented at COEX Korea Electronics Show
SeoulTech graduation work 2016 exhibited next to Samsung, LG, and Qualcomm products
SeoulTech 2016 undergraduates' graduation work appeared next to Samsung, LG, Qualcomm, and GoPro products. The Human Resource Development Center for 21st Century Da Vinci of the Seoul National University of Science and Technology (hereinafter referred to as "SeoulTech" – President, Kim Jong-ho) presented its capstone graduation work at the "2016 COEX Korea Electronics Show" held in the COEX A Hall on Samsung dong, Gangnamgu, Seoul from October 26th to 29th.
The KEPCO is Korea's largest electronics and ICT exhibition, presenting the latest technology trends in IoT (Information Internet), information and communication devices, communication equipment, 3D printers, and automobile. Organized by the Korea Electronics and Telecommunications Industry Promotion Association (KEA), the 2016 KEPCO included displays from 500 companies and about 60,000 exhibitors distributed over 1,500 booths.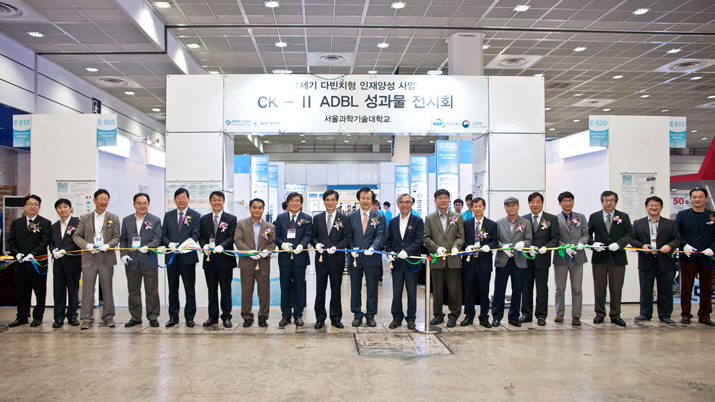 ▲ Tape-cutting at the opening ceremony of the COEX Korea Electronics Show by Kim Jong-ho, President of SeoulTech, and Kim Young-seok, Director of the Human Resource Development Center for 21st Century Da Vinci (hereinafter referred to as the "Da Vinci Center"), along with other important administrates.
The Da Vinci Group Center (Director, Kim Young-seok,) presented graduation work from about 80 teams and the Capstone excellent graduation work from over 300 undergraduates, including the t team, the learning lab (learning lab), the task performance team, etc. of the Departments of Mechanical System Design Engineering and of Electrical Information Engineering, at 18 booths in Hall A of the 2016 COEX Korea Electronics Show.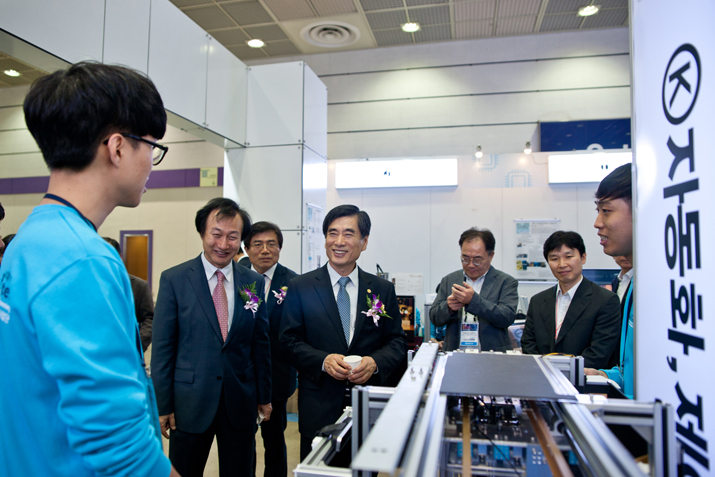 In the opening ceremony, Da Vinci Center Director Kim Young-seok said, "SeoulTech exhibited the graduation work of Korean undergraduates at the largest exhibition events in Korea and abroad at the CES (The International Consumer Electronics Show) in Las Vegas, USA for the first time." He added, "I aim to give SeoulTech undergraduates' graduation work even more visibility in the future".

SeoulTech has adopted All-Semester Design-Based Learning (ADBL) on its undergraduate courses and has pioneered a new model of engineering education in Korea. As a result, SeoulTech won the President Award of the Humanoid Robot Sports Intelligent High Tech Pro Division in October of this year, and the 1st and 2nd places in the 2016 National University Student Hybrid Car Competition.
SeoulTech students received excellent grades for personality, teamwork, and leadership, as well as for creativity and problem-solving ability through their Capstone graduation work. The undergraduate employment rate has also topped the nationwide rankings from 2008 to 2014, except for a third place in 2013.