70 SeoulTech Teams and 200 Students' Graduate Projects Exhibited at the Korea Electronics Convention at Coex
SeoulTech graduate projects have joined Samsung, LG, Mercedes-Benz, etc. on the same stage.. SeoulTech's (President Kim Jong-ho) 21st Century Da Vinci Cultural Talent Development Project presented its capstone graduation work at the "2017 COEX Korea Electronics Convention" held at COEX A Hall, Samseong-dong on Oct. 17-20 . The Da Vinci Cultural Talent Development Team (President Kim Young-seok, Da Vinci Project Team) of SeoulTech organized 18 booths in Coex A Hall, and held excellent performances of the Capstone Graduation Projects in Mechanical Systems Design Engineering, Electrical Information Engineering, They exhibited approximately 70 teams, including the ADBL excellent performance team, and over 200 undergraduate projects..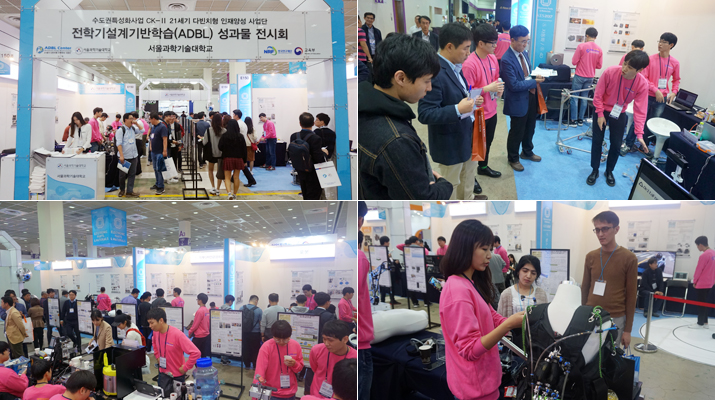 ▲ On Oct. 17-20, many people visited the SeoulTech booths held at the Korea Electronics Convention at COEX in Samsung-dong, Seoul.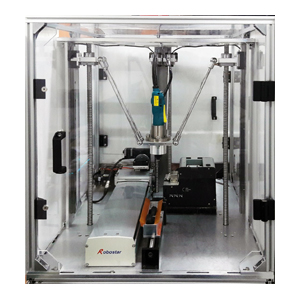 In this exhibition, booths were placed according to the subjects of automation, drone, rehabilitation, medical care, etc., so that the public easily understood the work. Many works such as two-arm service robots, helium balloon drones and paddle robots were excellent in completeness and exhibitability. Among them, the multi-axis delta robot using the tilting stage (left image) is able to reduce work process time (tact-time) by simultaneous transfer, assembly, and loading of workpieces using a delta robot with four- This is a work that can automate simple and repetitive work, and it is able to secure efficiency and economical efficiency of work. In addition, it can be applied to drilling, pick and place, and other refining processes.
Kim Young Seok, director of the Da Vinci Project Team, said, "SeoulTech exhibited its graduation works at the largest exhibition events in Korea and abroad at the Consumer Electronics Show in Las Vegas, USA for the first time from undergraduate students in 2016. "The goal of the education business is to train engineers who will be able to produce works from the lower grades to the upper grades over the years and put them directly into the industrial field."
SeoulTech has been promoting a new model of engineering education in Korea by adopting the All-Semester Design Learning (ADBL) for its undergraduate courses. This accomplishment has won achievements such as the best prize award of the 2017 University Machine Tool Creative Idea Contest Prize of the Year and the highest award of the Ministry of Small Business Ventures and Enterprise of 2017 and Root Skill Game Competition (mold 3D technology skill contest competition).
The Korea Electronics Convention, hosted by the Ministry of Commerce, Industry and Energy and the Korea Electronics and Telecommunications Industry Promotion Association, is an international exhibition in which major buyers, governments and organizations are participating. Products, as well as next-generation convergence solutions such as industry convergence, IT convergence, digital broadcasting, smart education, and e-health. KEPCO has been held annually since 1969 and it has been 48 times this year. A total of 500 companies including 400 domestic companies and 100 overseas companies participated and 1500 exhibition booths was established. It is estimated that about 70,000 people participated, including 4,000 overseas buyers.
* Interview of project leader Kim Young Seok and a video of the Korea Electronics Convention