Awards for Foreign General Graduate School Students
Mechanical Engineering Doctorate Student Ngo Cu Long and Electrical Information Engineering Master's Student
○..[Mechanical Engineering Major] Doctorate Student Ngo Cu Long Receives the Excellence in Academic Thesis Award from the Korea Mechanics Academic Tournament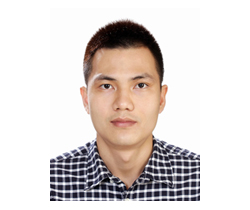 SeoulTech General Graduate School Mechanical Engineering Doctorate Student Ngo Cu Long (Advising Professor Choi Hyung Kwon) received the Excellence in Academic Thesis Award for his master's thesis on 'A Multi-level Adaptive Mesh Refinement Method for Level Set Simulations of Multiphase Flow on Unstructured Meshes' as part of the 2017 Korea Mechanics Academic Committee's Hydraulic Engineering Academic Tournament held at Busan BEXCO in May.
The Korea Mechanics Academic Committee (President Kim Wan Doo) was established in 1945 and has been in the forefront of domestic mechanical engineering while contributing to society through the advancement of academic achievement and technology.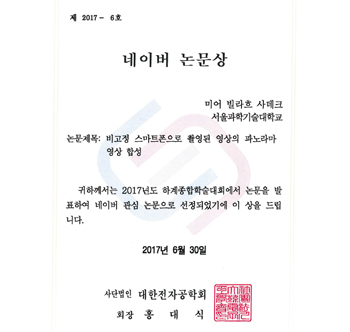 ○..[Electrical Information Engineering Major] Master's Candidate Meer Sadeq Billah Receives the Naver Thesis Award from the Korea Electrical Engineering Committee
SeoulTech General Graduate School Electrical Information Engineering Master's candidate Meer Sadeq Billah (Advising Professor Ahn Hee Joon) received the Naver Thesis Award at the Korea Electrical Engineering Committee's summer thesis tournament held at the Grand Hotel in Busan from June 29th to July 1st.

The tournament, which focused on the "4th Industrial Revolution through Smart ICT Technology," presented the Naver Thesis Award to Meer Sadeq Billah for his thesis on the Composition of Panoramic Videos Filed by Non-Stabilized Smartphones.
In addition, the SeoulTech Electrical Information Engineering Major and the Digital IT Media Engineering Major is currently working on research that focuses on designing systems and technologies for offering realistic 360VR media that tracks the movements of viewers as part of the Information Technology and Broadcasting Research Development Project hosted by the Information Communications Technology Promotion Center and the Ministry of Science, ICT and Future Planning.