Six Locally-Based National Universities Set to Create an "Industrial-Academic Cooperation Belt"
The 6 universities: SeoulTech, Gunsan National University, Kumoh National Institute of Technology, Pukyong National University, Changwon National University, and Hanbat National University
On January 4th, the Seoul National University of Science and Technology ("SeoulTech") signed a memorandum of understanding for the creation of a "locally-based National University-Industrial Academic Cooperation Belt" with five other national universities, including Gunsan National University, the Kumoh National Institute of Technology, Pukyong National University, Changwon National University, and Hanbat National University.
The Seoul National University of Science and Technology and its five national partners agreed and discussed the establishment of a model to help regional universities actively evolve with the demands of universities' changing roles in the face of social and economic environmental changes, and to lead regional and national development through the signing of the MOU. The creation of the university-industry cooperation belt is expected to contribute to the development of the six universities as well as to that of the local industry.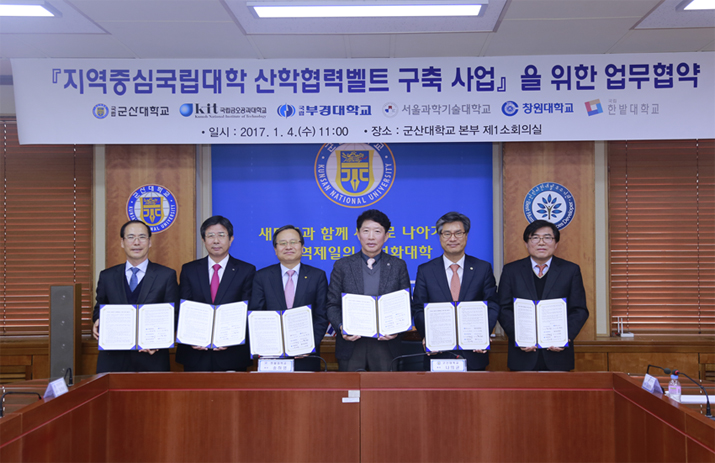 ▲ (From Left) Changwon National University President Choi Hae-bum, Pukyong National University President Kim Young-seop, Hanbat National University President Song Ha-young, Gunsan National University President Na Eui Gyun, Kumoh National Institute of Technology President Kim Young Sik, and SeoulTech Industrial-Academic Vice President Park Ik Geun taking a ceremonial photo after the signing of the MOU.
The main contents of the agreement are as follows: ▲ Human education, including education, industry-academia cooperation, research, advisory functions, and other professional-related aspects ▲ Development of a joint curriculum, common teaching materials, and professional development programs ▲ Research, use of educational facility equipment, and material exchanges ▲ Matters relevant to student field practice, and mutual cooperation on other industrial-academic projects ▲ Collaboration on the National University Innovation Support Project and LINC Plus ● Joint implementation of national projects ▲ Collaboration on international industry-academic cooperation matters ▲ Joint university efforts and other matters relevant to mutual collaboration.
Following the signing of the Memorandum of Understanding by the university presidents, in the afternoon, the industrial-academic cooperation group heads of each university held a meeting for second working-level presidents to propose projects in the three fields of R&D, industrial-academic connection, and support infrastructure (personnel, facilities, equipment, databases). A third meeting will be held on February 2nd at the Kumoh National Institute of Technology for the administrative directors to discuss the curriculum and the suggested projects in these three fields.