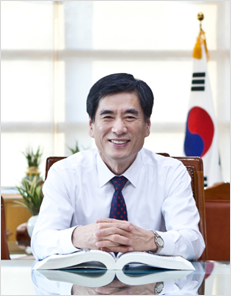 Thank you for visiting SeoulTech.
I am Kim Jong Ho, the 11
th
President of SeoulTech.
We are an institution with an amazing history. SeoulTech was established at the same time as the birth of the Republic of Korea in April 1910 – a time at which the fate of our nation was uncertain. This year, our school celebrated its 105
th
anniversary and was converted into a national general university. We have continuously sought to provide practical education in engineering and design, and have produced approximately 100,000 graduates over the years.
SeoulTech is located in the North East Tereung area of Seoul and boasts a campus with the best faculty, advanced educational facilities, and a systematic educational curriculum. The University comprises 13,000 students attending 6 colleges – the Engineering College, Information Communications College, Bioenergy College, Design College, Humanities and Social Sciences College, and Management Technology College -, as well as 7 graduate institutions, including the General Graduate School, Industrial Graduate School, Real Estate Graduate School, Railway Graduate School, IT Policy Graduate School, Energy and Environment Graduate School, and the NID Combined Technology Graduate School.
Having now become a national general university, SeoulTech has recently experienced an astounding progression, ranking in the top tier of universities for research according to university rankings compiled by the media. Freshmen students' average entrance exam scores are rising, and we have established a research exchange network with 154 foreign universities located in 40 different nations as a result of our emphasis on a more global university education.
We pride ourselves on our skills, experience, and reputation in the fields of engineering and design. 85% of our current students are studying subjects in the engineering and design fields, and we are maintaining our lead as a central university for engineering education and research. We have also maintained our reputation as a top-class design institution to this day. Since its foundation, SeoulTech has been a 21
st
-century leader for engineering and design.
Along with Seoul National University, SeoulTech is the only 4-year national general university located in the Seoul metropolitan area. As a national university, we strive to benefit our nation and mankind as a whole and to foster students who need help by creating a future based on engineering and design.
If you are a student with dreams and persistence, we recommend that you consider the SeoulTech experience and join us in creating a better 21
st
century.
Thank you.

President
Seoul National University of Science and Technology